Product Details
1. 90 deg PVC elbow Introduction
Pipe fittings are an essential part of piping and plumbing systems,which are attached to pipes via a number of different connection methods, each with its own conveniences and advantages.They're the pieces that connect different pipe sections together (or to other components) and help run them where you need them to go—around corners, through ceilings or under the house.
Types of fittings
Fittings that extend or terminate-pipe lengths:
· Adapters connect two dissimilar pipes to each other by solvent welding, soldering or threading.
· Couplings connect two similar pipes to each other by solvent welding, soldering or threading.
· This category also includes adapters, sleeves, unions, caps and plugs.
Fittings that connect two or more pipes or change direction:
· Elbows change the direction of the pipeline. The most common angles are 90 and 45 degrees.
· Tees connect three pieces of piping in a T-shaped intersection. This lets you divert water to another line.
· This category also includes wyes, crosses.
Fittings that connect pipes of smaller sizes:
· Reducers connect two or more pipes of different sizes. There are reducer couplings, tees and elbows.
· Olets attach to branched connections when adequate reducing tees or crosses are not available.
Fittings that provide special connections or functions:
· Nipples allow two separate fittings to be connected at each end.
· Valves connect pipes together and control the flow of liquids.
2.Pvc pipe fittings size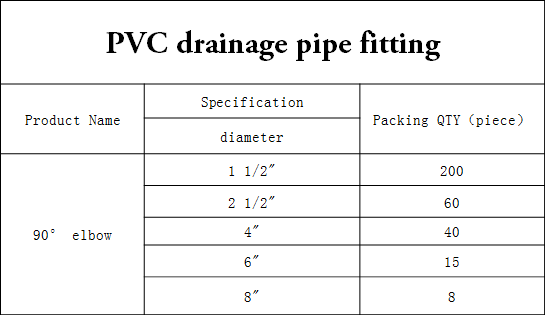 3.Pvc pipe fittings Application:
1.Potable water supplying pipeline
2.Central air-conditioning system
3.Irrigation system in public place and garden, greenhouse etc
4.Industrial pipeline for supplying of chemical products.
4.Pvc pipe fittings characteristics:

1.light weight, convenient to transport, load and unload
2. Excellent chemical resistance to acid, alkali, corrosion, perfectly adapted for the chemical industry
3. Good mechanical strength
4. Good antipressure in both hydraulic, normal condition and impact resistance are suitable for a
variety of piping system
5. Fine electrical insulation for wire and cable protection
6. Easy installation
5.FAQ
1. Are you manufacturer, trading company or a third party?
We are a manufacturer, and we have built up our company since 1994.
2. Where is your factory located?
Our factory address is : Tengjia town,Rongcheng city,Shandong province ,China (mainland)
3. What is your MOQ, can you send me samples?
Our MOQ is 1000mts for pipes,and 200 pieces for fittings, If necessary, we can provide free samples, just at your expense of express freight..
4. Can the products be customized as our request, such as putting on our logo?
Surely our products can be customized as your request, and putting on your logo is also available.
5. As the shipping period will take long time, how can you make sure the products won't be broken?
Our products are properly loaded to make sure the goods are properly shipped, but if any broken ones, we will make up for you.
6.The transaction details of Pvc pipe fittings :
Application: water transportation ,
Original: Shandong Province , China
Certification: ISO,CE,
Material:PVC
Payment term: T/T, LC
Delivery date: By T/T, within 25 days after receiving 30% deposit
Packing: Nylon bags with logo and brand printed
Life span :50 years
Inquiry
Your Name:
*E-mail:
Phone:
Company:
Title:
*Content: